Let's review…
Over the course of this guide we covered the full public sector procurement cycle, from finding the right opportunities and submitting your bid to finding out the decision and getting feedback.  In a nutshell, this is what that process looks like: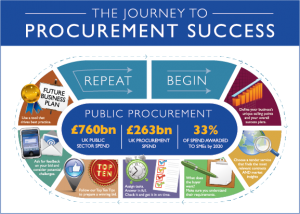 Final thoughts
Procurement is an ever-changing industry. There's always new legislation coming into effect, new ways to win and new opportunities on the horizon.
As a result of this, procurement can be a challenging industry for businesses that don't take the time to understand it or develop sound strategies to succeed in it. On the other hand, if you are willing to invest the time to understand the market, it can be incredibly rewarding.
This Ultimate Guide to Winning Government Contracts aims to give you the best possible overview of the marketplace and to explain in a straightforward way how to win new business with Government. We hope that you're now confident in your knowledge of the public sector procurement process.
No matter what size your business, how new you are to procurement or how successful you've been in the past, you can win with the public sector.
All that's left is to go do it!
Best of luck.